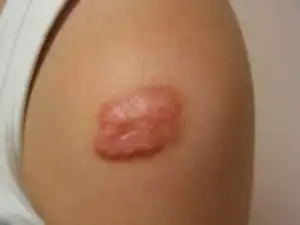 Patients with various types of scars, including burn scars and keloid scars, may be interested in learning about the solutions available at Remington Laser Dermatology Centre. Drs. Todd Remington and Kent Remington work hard to provide the best treatments for new and established patients ready to reduce the appearance of scars on the skin. Our team utilizes various treatment options and will select the one most appropriate for an individual based on their unique desires and needs. The severity of the scarring is also taken into consideration when choosing a treatment that meets one's expectations.
What treatments are available for burns and keloid scars?
At Remington Laser Dermatology Centre, our doctors are excited to offer the following treatments for burn and keloid scar patients:
Deep FX laser

Fractionated CO2 laser

SCAAR (Synergistic Coagulation and Ablation for Advanced Resurfacing) FX laser

Cortisone injections (best for flattening scars and reducing itching and burning)
Which treatment is right for me?
The treatment chosen for a patient will vary depending on their unique needs. Drs. Todd Remington and Kent Remington evaluate a patient to decide how severe the scarring is. Then, they will discuss with the individual the best options that are suited to their needs. Treatments are extremely effective when performed regularly by a trained and experienced provider such as the team at Remington Laser Dermatology Centre in Calgary, AB. With the right treatment, patients will see fast and effective results over time and feel more confident in their appearance.
Are you interested in learning more?
Treating burns and keloid scars is easy with the help of our team at Remington Laser Dermatology Centre. We are committed to providing the best treatments for new and existing patients in our facility. If you reside in the Calgary, AB area and want to speak to a provider about the best treatment for keloid scars or past burns, we invite you to call the main office at (403) 252-7784 to connect with our front office staff and book an appointment. We are located at 150-7220 Fisher Street SE and work regularly with individuals ready to improve their appearance after scarring has occurred on the skin.